MEETING JOLLYGOOD GAMES

---------------------------------------------------------------------------
Ten years ago I had the  great opportunity to spend two months in Finland to 
achieve a training period as translator for HOUSEMAQUE, a game company. This 
resulted from me  translating one of my favourite Ste games, namely  UTOPOS. 
This was when I first met Jani Penttinen aka Creator/AGGRESSION and his cool 
fellows (most of whom attended the first OUTLINE party).

Several months ago I happily opened a mail coming from my hairy friend Jani. 
Our friendship was still the  same and since then we've been in touch on an 
almost daily basis thanks to the internet.

I'm seizing this opportunity to write for  ALIVE about what Jani is currently 
doing, something that may hopefully entertain some of you :) Let me introduce 
Jani's company named JOLLYGOOD GAMES.
---------------------------------------------------------------------------


A little history to start with :

 Somewhere after 1995, Jani  moved to the USA as he was hired by world famous
 company Westwood Studios. A couple of years later, some changes gave him the
 idea of creating his own game company, far away from big moguls like EA.

 He joined forces with the maker of PROJECTYLE (remember that cool futuristic
 sport game  on the  ST ?) and gave birth to JOLLYGOOD GAMES. Tho they mostly
 offer peecee games (as well as mobile phones and others), they truly enjoy a
 wide range of cool games, all shareware sold from 10 to 20 euros. Nice games
 for  everyone, with  real  gfx, no soulless  rendered shit  and a strong old
 school feeling. In other words, if you  own a peecee  and want  to play cool
 games reminding of the ST/Amiga days, this is the right place to be !

 At http://jollygoodgames.com you'll be greeted by a colorful page showing the
 latest games released. All of them can freely  be donwloaded as limited demos
 fully playable and  enjoyable though. All kinds can be found, be it shooters,
 puzzlers, word games or arcade.

Note to our French readers : the whole website has been translated (by me) 
some months ago, so please do not back up :)

 Shareware games, high quality stuff at nice prices ? Well tho it's on peecee,
 gotta say that I truly like this old school way of doing things :) Most games
 don't even require a standard  peecee configuration (except for Doctor's Blob
 Organism that won't run here because I don't have a 3D card that's all).

 I surely don't want to add some nasty pop-ups here, just show you that some
 former Atarians  are still  living the way  they used to a decade ago. It's
 always a nice  and comforting feeling to  see them remembering the good old
 days. Who knows then, maybe Utopos will finally make it to the peecee ?

 Anyway, let's try to focus on a few games I've tried, tho not so many due to
 lack of  time :( All of  them can  be downloaded  in a couple of minutes and
 right away enjoyed.


---------------------------------------------------------------------------
   P  L  A  S  M  A     W  O  R  M  
---------------------------------------------------------------------------

 Remember the good old  worm game of the 80's ? Trapped  in a blocky maze, the
 poor ling couldn't stop going  forward and while  it would gulp up bonus, its
 body would keep growing. The longer, the harder (no stupid pun to be seen :).
 Basically the game hasn't changed  a lot : first thing is  the nice graphics,
 surely painted in 256 colors and not more. Then the soundtrack reminds of STe
 or Amiga games, you will feel at  home right from  the start ! Also  the game
 doesn't even require a joypad as only two keys, namely left and right arrows,
 are needed to get  started. The demo only offers 5 levels but you can get the
 20 level version for only 10 dollars (about 7 euros).

 No need to tangle with  boring stuff live  video or audio settings, just press
 the START option and get  ready ! The first arena looks  really neat and above
 all the background is  made of a  typical plasma  as seen  in sooo many demos,
 groovy  baby ! Then it's  time for you  to play : just  move our worm onto the
 zooming items scattered all over the level and don't get  too close walls ! As
 you eat bonuses, your worm  will grow longer and  you need to collect 10 items
 to complete a level, not so easy :) First level only shows a couple of regular
 walls but  other levels will add to  the difficulty  and ask you to be able to
 manoeuver between obstacles and your own tail... or extended body, whatever :)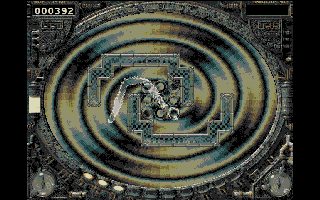 This game truly proves fun and after losing like a lamer you're going to start
 playing again and again ! Not a lame online rpg, just an enjoyable game you'll
 play here  and  there, for the  fun of  it. Nice  graphics strengthened by the
 plasma background, added to a  translucent  worm  and atmospherical music will
 give gooseflesh to the many old time gamers all over the world. I even suspect
 more buyers to be people  like you and  me who played games on a basic console
 and wanna feel  the  good old  vibe again :) to put  it in a nutshell : it's a
 MUST TRY !


---------------------------------------------------------------------------
D  R  .     B  L  O  B  '  S     O  R  G  A  N  I  S  M 
---------------------------------------------------------------------------

 Gotta say  here that  I couldn't play  the game  at home since my "old" peecee
 doesn't have a 3D card, what should not stop most gamers  out there. This time
 we come up with a "rotating" shooter. As with  every demo this game is limited
 to some levels, enough to have fun and see if you wanna spend a dozen euros on
 the full version.

 Once again with cool games, you don't need a 10 minute reading, just make sure
 your rusty fingers are  ready for some action ! Storyline is set in some crazy
 lab and you are actually  having a close  look at some  bacterias thru googles
 when the invasion starts ! Be quick or be dead as the song says : at first you
 only enjoy a  single  laser and have  to rotate the  dish to kill all attempts
 from the bacteria to grow and  reach the dish borders. Damn  simple and sooooo
 addictive indeed ! The game enjoys really gorgeous gfx, nice sound and kidlike
 commands. Soon enough you will turn into  a bacteria killer  and wait for next
 level because then you'll be granted more powerups like twin lasers and more !
 the game  strongly reminds me of some rotating shooters (gotta admit mostly on
 Amiga) or call it reversed asteroids since this time you're on the outside and
 try to prevent an awful germ invasion.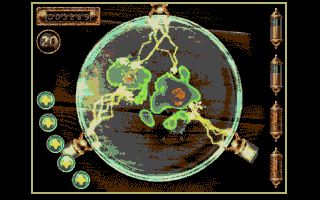 Addiction is a true keyword here since gfx are truly awesome and the game can
 be played instantly, once again  no need for some dumb peecee joypad, all you
 need is some keys and fast thinking ! You won't  play it for 4 hours in a row
 (erm not so  sure :) but this  game also  proves to be a  great entertainment
 given away for more than a decent price. But I'll stop here before you get to
 think I receive money for advertising :)


---------------------------------------------------------------------------
  T  U  R  B  O     S  L  I  D  E  R  S 
---------------------------------------------------------------------------

 When  loading this game, you'll  instantly feel your throat go  dry as this is
 nothing more than the online version of Super Sprint or  Supercars here ! Tiny
 cars driving like mad on a big track instantly remembers of endless games with
 friends. Well it has not changed  a lot : nice  and plain gfx, same with music
 and sfx. You won't get  lost with the options  offered either : create player,
 training, cup and so on. Then, what ?

 The big difference - and main  interest in - Turbo  Sliders lies in the online
 gaming ! Train as long as you want, but you'll need to  buy the game for about
 17 euros and then you can play online with a dozen other competitors, set your
 own rules/cups, upload the  track you created  or download more tracks done by
 others. The good old recipe with online spice :)

 I don't think a lot needs be added here : neat gfx, cool overall design and as
 always only keys are needed to enjoy the game in a couple of minutes. Becoming
 the best pilot's going to be another challenge tho. Get your modem warmed up !


---------------------------------------------------------------------------
Last words : I was very happy to get news from an old friend and have a chance 
to work with him again since I've been translating a couple of games to French 
and also the whole website. Btw French version of  Turbo Sliders  will soon be 
available. Tho it's on  peecee, it's truly  a home feeling you get when seeing 
the many games offered. Not to forget  that nostalgic gamers will  be happy to 
play the classics revamped for another millenium !

Well, that's it. I hope you found some interest in this humble article and 
will pay a visit to http://jollygoodgames.com at least out of curiosity :) 
---------------------------------------------------------------------------

STS signing off