GREETINGS LIST

Another issue brought to life ! Sure we're late, so late as the original 
release date was thought to  be late September but then so  few releases and 
articles gave us no  chance to make it. Then better late than never ! And as 
usual we took several fellows into this adventure  so that it's time we give 
them deserved thanks for giving birth to another ST baby :)

    Let's have a look at who's been a nice boy :

    CiH : him again ? Well as long as Chris keeps being so supportive, helpful
    AND active, I'm afraid it'll top this greetings list :) As always he wrote
    many articles and supported me as often as could be ! Our collaboration is
    now 2 years old and  I'm happy with  our relation (I'm gonna propose Chris
    soon if things go this way :)


    Paranoid : while I thought he would have no time for us, Oliver handled me
    his two huge FAQs, an impressive  amount  of work ! He also  found time to
    write some articles I had to do (by lack of writers) and organized another
    friendly edition of PARACON. You're always such a nice pal ! Oups I forgot
    to mention he also painted that shell !

    Strider and  MJJ Prod : thank  you  for  the nice  intro ! I know  that the
    accessories launched on my HD didn't help a lot but i'm sure the intro will
    run everywhere ! Keep doing things MJJ and don't give a shit about the crap
    we write, no one is reading anyway :)

    Thanks to 505 for sending me the EIL3 invitation as well as for writing
    part of the PARACON4 party report.

    Our dear musicians deserve some thanks too for bringing such nice melodies,
    keep composing such enchanting stuff Tao, DmaSc and 505 !

    Exocet kindly painted the cover picture which I REALLY love ! I like it so
    much that I'm putting it here again for your own pleasure !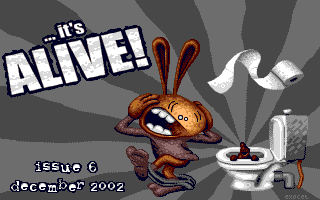 Now I don't feel like writing  stuff for everyone :) So huge  thanks are
    spread to the people who gave us some of  their time with an article, an
    interview or  their support : Marss,  Deez, Grazey,  Earx, DmaSc, Setok,
    Baah, Mic, The Cool Girls and Rodolphe Czuba. Erm I hope I didn't forget
    anyone :)


LAST WORDS :

    There are people who help out with an article, picture or msx but there are
    also people who make you wanna  go on with  what you've been doing for what
    seems eternity ! Here are therefore more personal greetings :

    * Evil : without  your  homepage we would  have no roof nor shelter ! The
    other day you said you were almost inactive :( But you already do so much
    that it would be a shame to call you such.

    * Ultra (keep going), Swe (I want to  play BARS), Edo (number 1 gfxman), Mr
    Pink (RG  games rock), Ray (Wolf 3D is  impressive ), Moondog (we share the
    same cross :), CosmosH (a wanker but a great friend) and everyone who still
    has enough dreams to keep going !
----------------------------------------------------------------------- STS --