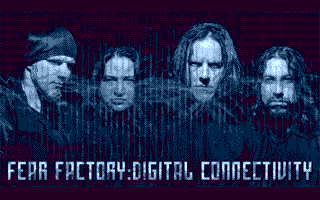 Fear Factory is an American Metal band. So far they have  released four full 
albums, which I'll describe later, plus almost 10 singles collecting unreleased 
tracks, remixes or just songs taken from these albums.

I think I first  heard  about  them  with  their second  album DEMANUFACTURE 
released somewhere in 95. As a funny story, it all started by coincidence : for 
my brother's birthday, I gave him  this album, picking  it up in the store only 
because I liked  the  cover pic :) First  my brother  was a bit disappointed by 
such unexpected gift (at  that time  none  of us  actually knew the band !) but 
soon enough he came to like  it and  I rushed  into  the same  feeling. Then we 
attended a FF gig (for Fear Factory of  course) in Strasbourg. It was 96, I was 
in the army (beurk) and my first tatoo was only some days old, meaning slamming 
was hurtful  every, say, ten seconds :). The  concert  was just  perfect, great 
atmosphere and blasting sound, a great memory !

In 1999, we came back to attend another FF  concert after  the release of 
their latest album OBSOLETE and tho as good and enjoyable as 3 years earlier, 
we started to realize that there were a lot MORE people in the now too small 
and hot concert hall !

This year is FF's 10th birthday and as a gift they have decided to release a 
DVD. Like many other Metal stuff, it wasn't easy to get our hands on a copy and 
my brother actually had to go shopping a hundred kms away to hope and find this 
copy (today he's back there, trying to  find another copy for me :). Btw if you 
feel interested in this DVD let me tell you that you'll have to spend 30 euros. 
Too expensive in my eyes but  I really  love the  band and have strong memories 
about the two concerts we went to.


Run Connection ....
Checking login and password ........  ... . .    .

D  I  G  I  T  A  L   C  O  N  N  E  C  T  I  V  I  T  Y 


   There are  several  ways to  view this  DVD : either you  run the  four main
sections individually or you go for the whole of them at once, seeing FF's full
evolution over the last decade. Each section  is dedicated to an album, showing
concerts footage, all sorts of loony videos shot on tours, videos and a handful
of static photos.

1. Soul Of A New Machine

   This first album  sets FF's background and identity with a lot of industrial
noises as introductions or in the  background. This first album  hits you right
in the face with Burton C Bell low voice, Raymond Herrera's ultra fast drumming
and ravaging guitars parts courtesy of Dino Cazares. Fear Factory's bass player
Christian Olde Wolbers joined them from the  second album only. It reminds me a
lot of early Napalm Death albums.


2. Demanufacture

   Fierce as ever FF comes back with what is  still considered their best album
ever. DEMANUFACTURE plays as loud as S.O.A.N.M. but there's an electronic touch
to it this  time with  discreet tekno beats  reinforcing the usual theme of the
Electronic Human carried  by FF. The  digipack edition  is  really  nice with 3
bonus tracks. The main difference with  their first  album is that  now you can
feel them grow  more  mature, tunes are  better structured and  still wild like
hell !

Bonus : video of "replica"


3. Obsolete

   This third albums witnesses a deep evolution of FF : first it may seem a bit
less brutal than previous tries (could it be  that I don't  define "brutal" the
way most ppl do ? :). Then, some  tracks  are really slow  and melodic what may
find some  Metal  extremists mad  at. Above all  this album  was written like a
movie, each tune telling a different part of the story. Once again we feel FF's
will to explore the  digital world, with  a lot  of songs  telling that "Man is
obsolete, erase, extinct". This is a machine VS human war and I suggest you pay
attention to the lyrics of these songs as there's plenty to learn from.

Bonus : video of "Resurrection"
video of "Cars"


4. Digimortal

   Their latest album  shows another  evolution  of FF with  still unchanged
elements like fast drumming and  low pitched voice, but also parts featuring
some rapper, original  parts, even nostalgic. This  album is great as far as
singning is concerned since you feel Burton C. Bell has learnt to master all
the possibilities his voice offers.

Bonus : video of "Linchpin"




D  V  D    D  E  T  A  I  L  E  D    C  O  N  T  E  N  T  S

   When you run the DVD you are presented with an amateur video first. Not easy
to understand it all as the DVD has no language nor subtitle  options at all :(
Then it  goes faster  with a lot of excerpts from concerts, roadies  videos (FF
making fingers, naked chicks, the usual stuff I guess !). After  this appetizer
you finally reach the main  menu showing the evolution of the  FF logo from the
first to the last album (see logo pic shown earlier). Then  a static and really
well designed menu invites you to pick up a destination.

   You can go for 'movie' which gathers the four steps of FF evolution as an 80
minutes long sequence. You can  go to 'Evolution'  instead if you  only want to
view these  steps  separately, each of  them  corresponding to the  four albums
described earlier. Here  you  can  run a  documentary, run a  specific video or
watch some photos. Surely the best part of the DVD since it really captures the
state of mind of FF, shows many  different concerts (either it was indoor or at
festivals), plus many raving mad sequences : Burton C. getting tatooed, Raymond
eating god knows what, Dino going to  sexshops or Christian changing haircut :)
It really gives  you the  feeling you * are *  with them, on tour  and the many
sequences are nicely put together.

   I have to add that the  guys of FF  seem smart enough  not to destroy their
hotel room unlike some Metal bands (do I really need to mention the barbarians
known as members of PANTERA ???). Yes, Metal bands can be smart people too !


MEMORY IMPRINTS

   This section offers tons of photos, scanned posters, backstage passes, all
kind of stuff the band liked  for some - nostalgic - reasons. It's like going
thru their family  photos album and reinforces  the feeling that they want to
share what they've gone through with their fans and that's a great thing !


DISCOGRAPHY

   Here you'll find all covers of FF albums plus  singles they've released so
far. Not the most amazin part of this DVD but surely a collection many fans -
like me - will like as it allows them to check their FF owned CDs !


BONUS TRACKS

   The bonus part is really cool since it features *EIGHT* unreleased tracks.
Unfortunately - and  unsurprisingly - you  can only  enjoy them from  your DVD
player, no chance to browse the DVD from a PC to grab all audio files :( Still
these bonuses  are pretty  cool : half of  them are "regular" FF songs done on
various occasions while the other half are tekno remixes of famous FF songs. I
like these remixes a lot tho they REALLY differ from the original ones !


EXTRAS

   This last  part is  of limited  interest since  it's mostly  composed of DVD
credits (boring and small, will anyone give a shit about that ?), links to some
official Fear Factory websites as well as some images  to be used  as wallpaper
on your (glups !) PC.


PLUS AND MINUSES

   + the first and only DVD dedicated to this great Metal band !
   + nice overall design and ideas
   + lots of private videos punctuated by FF smart point of view
   + nice videos (really hard to catch on TV)
   + great bonus tracks (I just love them !!)
   + the DVD leaflet features 4 pages written by Burton C. Bell about the birth
     and vision of the band over the last decade.

   - too expensive
   - on some concert videos, the spund quality is really crappy
   - too bad the bonus tracks cannot be copied to PC and listened you as MP3s

   Now it's up to you ! To people who have followed FF from their first album
on and eventually went to concerts, it's a MUST HAVE !!!! Otherwise, you will
surely not see much interest in this DVD.

--------------------------------------------------------------------- STS ----