,
                                                 )
                         _____ __  _           (   m0/CRO           __
            ___       __(  ____                _/\______ ___   __  _) \
         __/  (_______\  _(   /_  ___  _____   \oO   __//__/  /_/      \
        _)               \_   _/_(  /__\    \  / -  /                   \
        \  the Ultimate   |   \/   /    _    \/    /  Meeting 2006      /
         \_    __   ___ __|   /   /_\   \)        (_     ___________   /
              /_/  /__//______\_________/\___\/____/  __(           ) /
                                         _ __  ____/              ??


                                [TUM 2006 Report]

        Being held close to the end of 2006, the ultimate meeting was my 
        last Party for this year. Once again the real family met in 
        Karlsruhe and had a good time. As a senior guest of TUM I 
        noticed that each year you can find more ATARIans there. This 
        time I counted six ATARI sceners, one ATARI geek-girl and one 
        Jaguar scener. You could meet Havoc who spent most of his time 
        with the Limp Ninja crew inside the center of the hall, while 
        twh, earx, remo, JeanYvu and me were gathered on the slightly 
        elevated balustrade at the long sides of the place. Since he had 
        to work, Lotek Style was only able to visit on Thursday night, 
        while the compos were running. Besides there was also Kami68K 
        (Atari Jaguar scener) with his girlfriend, ready to fight in the 
        retro compo here and there.

        As a debut twh and me installed an Atari XEGS, jammed QUIX
        inside and announced a retro gaming compo. Everybody was invited
        to join and in the end we had nine competitors. Since I trained
        that game like nothing else for the last 600 years it was no
        surprise that I was the lonely winner of our own compo :) with a
        score of 144K within the first fifteen minutes. TwH tried two
        days to beat that score, but he never succeeded. Thursday night,
        when I was dead tired, I managed to beat my own record, so in
        the end I won with a score of 153K. AFAIR the QUIX compo winner
        from Error In Line had 227K, but who cares? I was satisfied with
        my score, since it was good enough to beat twh (or "atari guy",
        but we will get to that topic later :) He became 2nd with 90K
        and JeanYvu reached the 3rd place with 77K. She achieved her
        record when we wanted to pack up the machine, anyway with a bit
        of luck she could have gotten the 2nd place. It was a nice compo
        and we will try to carry on with mini-events like that at some
        more parties in 2007 :)

        Like usual earx was busy coding some stuff on hi GP2X, besides 
        he helped me setting up a development tool-chain. Since I urged 
        twh to buy a GP2X as well, we had three Gameparks in a row, 
        which should be a rare "coincidence" for most parties :)

        Next to our little GP2X club some guys called Neoscientists were
        working on a PS2 demo. Their low level routines were done in
        assembler but they used LUA scripts to control the demo and put
        everything together. JCO told me he knows at least one other guy
        coding in LUA and it seemed almost like a mass hysteria to me :)
        While coding a bit on my NonConForm language (or engine or
        library, whatever) I received some good hints and advices from
        the neoscientists. Besides I noticed that their LUA engine works
        quite similar to mine.

        During the party, Remo and JeanYvu did some interview recordings 
        for their university radio. JeanIvu told me, that it was 
        interesting, that there was only one scener who was able to look 
        directly into her eyes during the interview. Damned, nowadays 
        there are so many geek-girls present at parties, that they 
        already found out, that some (most) male sceners have a 
        behavioural disorder. (especially the C-64 guys who played tunes 
        with porn content in Bavarian dialect the whole night, when I 
        tried to sleep)

        Before the compos, Jco made a live performance of his songs
        combined with video clips, and we all enjoyed it.

        For the compos, twh did his first party release ever. He 
        participated in the "disco style effect" and scored the 5th 
        place out of 9. He made a small demo which looks like an 
        animation. Anyway it's still technically interesting, because he 
        generated a dynamic display list for each screen. When TwH's 
        entry was shown on the big screen, the organizers where unable 
        to properly operate an ATARI 800 emulator. The only thing we 
        could see was the famous "Boot Error" for an extended slice of 
        time :) Then an announcement echoed through the big hall: "... 
        ehh... atari guy... please come to the beamteam". Hehe, I guess 
        even the last one in the hall got the message, that an ATARI 
        entry was coming up next. Besides since that moment twh got a 
        new nickname called "atari guy" for us :)

        Besides twh another Atari scener participated in some compo at
        TUM. Limp Ninja featuring "yaka/xography" made the 1st place in
        "Madenmann's Boris Vallejo Conversion Compo" with the picture
        titled "Madenmann adores Scamp", congratulations! (See
        http://www.pouet.net/topic.php?which=3662 to get an impression
        :) There were 15 other entries but somehow this compo is missing
        from the compo results file so far, perhaps because the end of
        the compo matched with the beginning of the price giving
        ceremony. I hope at least the other entries will surface
        somewhere on the web soon, so far there is nothing to be seen at
        pouet.net or scene.org.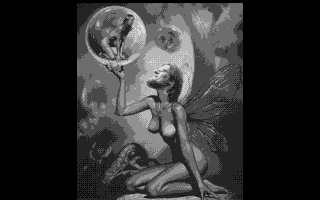 However, Havoc still denies any late night activity with 
        photoshop: "perhaps my sleepwalking problems got worse? ... I 
        tend to stumble over a mouse and Photoshop for about 2 hours, 
        it's really weird". Havoc further explains: "I was peacefully 
        sleeping Friday morning, and when i woke up people claimed i had 
        been on stage to collect a prize from Madenmann, which I'm sure 
        I didn't or at least i think so :P"

        Well last not least, JeanYvu (girlfriend of Remo / tSCc.)
        participated in the Modern style graphics competition and scored
        the 3rd place. She won her first prize at a demo party ever,
        congratulations JeanYvu. (See http://surl.se/pib )

        The compos were quite nice, but not outstanding. But TUM is much 
        better known for the relaxed atmosphere "between the years" than 
        for it's compos. After three days of fun, we all were happy to 
        have another day to write this report and to sleep before we 
        start celebrating the new year.

                                                     kRadD for Alive, 2006-12-30



Appendix A
Compo Results

Funk me plenty
- -------------------------------------------------------------------------- -
   01   179 the ultimate funk experience in the sky - nuance
   02   150 Back in tha disco - Pimp Ninja



Disco-Style Effect Coding
- -------------------------------------------------------------------------- -
   01   259 discocubes - Kakiarts
   02   208 fr-minus-08: funky bitch - farbrausch
   03   182 DIS C UGEL - the NEVER + muhmac
   04   178 Discotro - HCBA
   05   118 Partyvolk - twh
   06    81 Disco Rohr - anti^fake
   07    79 DiscoFX 32b - Re$Teverwertung 2oO6
   08    75 Can you see my headphones? - No-release
   09    72 atl-030-discostu - Robocop



Fixed Style Music
- -------------------------------------------------------------------------- -
   01   107 Too funky disco minutes - Skyrunner
   02    82 Fucking Silence - The Danish Musician / Pittsburgh Stallers



Exe Music
- -------------------------------------------------------------------------- -
   01   116 miChinygmatique - James Tonic & Gary J. Hung / Limp Ninja
   02   102 Bruce Lee Advanced - Skyrunner
   03    87 People Over Process - Payne / Brain Control
   04    84 Nokia tune - Surgeon / Vulture Design



Tracked Music
- -------------------------------------------------------------------------- -
   01   121 black maiden hifi sound - dipswitch / blackmaiden
   02    82 Pancake - Kami68k
   03    80 Wrath - eViL-Skyrunner
   04    79 Remember - TRAYMUSS /  ADDICT ^ Futuris



Streamed Music
- -------------------------------------------------------------------------- -
   01   109 Take That - dq ^ kakiarts
   02   100 AfroDite meets Mr.Funk - dBiz
   03    92 telemetrics - mad/bauknecht
   04    85 To the stars - BeRo
   05    83 False Message - jco
   06    82 Take the Lead - Brack
   07    77 Forever Again - Puryx / Scarab & TBC
   08    63 Godshatter - Pham Nuwen
   09    59 My fascination - TRAYMUSS /  ADDICT ^ Futuris
   10    35 Underpass - Numtek^Guideline



ANSI/ASCII
- -------------------------------------------------------------------------- -
   01   117 Saturday Night ANSI - tRASh/AWD
   02   104 just fyi - dipswitch / blackmaiden
   03    80 Tum disco \0/ - Numtek
   04    75 Oprimus Prime - Ansimetry Members/Ansimetry
   05    61 jobs done - Ulmenholz Uwe
   06    55 vidgames - Kami68k
   07    50 Made(n....) in Japan - TTrink



Oldskool Pixel
- -------------------------------------------------------------------------- -
   01   203 zum jugendtanz in dresden gorbitz - tomic
   02   145 Fliege beschleunigt - Bugjam/The Dreams
   03   109 In love with the weightless waitress - cp/farbrausch



Vector GFX
- -------------------------------------------------------------------------- -
   01   130 WTF?! - Kakiarts
   02   112 icons.pdf - Critikill/Brainstorm
   03   102 Gelber Honig - T$



4K Exe GFX
- -------------------------------------------------------------------------- -
   01   325 tiphareth - muhmac
   02   161 3Minutes - Mercury
   03   140 v.o.x.e.L. - place/d-lab42
   04   124 blubb - KeyJ / Kakiarts
   05    97 sky's the limit - sak/jumalauta
   06    82 tum - Numtek



Modern Tools GFX
- -------------------------------------------------------------------------- -
   01   228 atropa Belladonna - cosmic / nuance
   02   172 Which is the type of acid that actually makes you fly? -
            cp/farbrausch
   03   169 trouble begins  - jeanYvu
   04   148 DEEP BLUE - Critikill/brs.fr
   05    94 Reine - Delilah
   06    88 atl-027-themouse - Warhead
   07    76 Storm City - Numtek



WiLD
- -------------------------------------------------------------------------- -
   01   172 Angst - jco
   02   111 atl-026-hotcow - Atlantis
   03   104 a.Day - kakiarts
   04    97 Toys - a1k.org / TWIX



Combined 4k
- -------------------------------------------------------------------------- -
   01   258 Raptor - Mercury
   02   243 miChinygma - Pc Demogroup Limp Ninja
   03   213 [sanposhimastikum] - minas^calodox
   04    94 Mary DiscoX-Mess - T & $



Combined 64k
- -------------------------------------------------------------------------- -
   01   259 fr-052: platinum - farbrausch
   02   202 Terra Incognita - Brain Control
   03   175 out of order - headcrash vs. excess
   04   110 syrnix2 - fresh!mindworkz
   05    96 Laconism - Youth Uprising
   06    92 LaChopper Dx - Morbid Visions
   07    83 Kiiru - RNO



Combined Demo
- -------------------------------------------------------------------------- -
   01   244 The Simulaatio 5 Invitation - mfx
   02   210 Atomrave - einklang.net
   03   206 Happens. - Uemlauet Design
   04   199 neckbreak0r - bm/5711
   05   178 Fascination - Traction.Brainstorm
   06   163 Inferno - Guideline
   07   154 Gootsteen - Pc Demogroup Limp Ninja
   08   138 innerloop - neoscientists
   09   116 Oldksool RUlez - Tropyx
   10    99 Voor de noorderburen... - Royal Belgian Beer Squadron